History of Montessori

Maria Montessori created the Montessori method of education. She was the first woman in Italy to receive a medical degree, but was also a diligent student of education, psychiatry and anthropology. In 1907 she began her first classroom, and quickly established a reputation for her success in working with young children. As she refined her methods, she became very popular and her work spread throughout Europe as others invited her to share her method.
The Montessori method reached the United States in 1911, but met with resistance from the American educational establishment. It wasn't until 1960 that the model gained traction in the US and since then has spread to thousands of schools.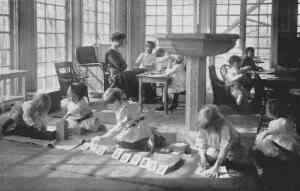 Throughout her lifetime, Maria Montessori continued to develop her educational approaches, specifically for children ages 0 to 3, 3 to 6, and 6 to 12. Although she also studied and taught about ages 12 to 18 and beyond, she did not create formal programs for them.
Montessori was also forced to spend time in India during World War II. She continued her work there, and in addition developed Education for Peace. She was twice nominated for the Nobel Peace Prize.
Today, the Montessori method of education enjoys widespread acceptance in many countries throughout the world, showing that its principles are universal and not bound by culture.
Contact Us for Rates and Info
Call 972-872-8501. Or fill out this form and we'll get back to you soon.
---

Testimonials
Definitely a good choice choosing our son to go to this school. We questioned it from a lot of different montessoris but at the end we made a very good decision here. All of our friends and family will also be sending there children here. Excellent staff and front desk people!
I transitioned my 4 year old daughter here from another daycare where she was unhappy. I chose this Montessori school because of the warm and welcoming atmosphere they gave as my first impression. And it has become even better since. Their focus is truly in the interest of the children, not doing it for the business as such. That is what makes the difference.
This is a beautiful preschool embracing the essence of Montessori with fantastic teachers and facilities. My child comes home very proud with stories to tell of another exciting day. The facilities is renovated and everything is so clean.
We are very happy with the school, teachers & the positive experience. Along with academics, extra curricular activities motivated kids & enjoyed it very much. Overall great experience for us.
We have seen incredibly positive changes in her skill levels and also her socialization with others. You have provided a wonderful educational and social environment for her, and we are quite pleased that Lily will remain with you until elementary school. We appreciate all that you do for our children, and count ourselves lucky to be part of the Kidz Camp family.
My daughter loves Kidz Camp Montessori and so do I! It has been an amazing experience. The staff and teachers are wonderful and extremely dedicated. My daughter has thrived during her time here and has gotten an excellent head start for kindergarten because of the hard work and dedication from her teachers. They are very nurturing and they know how to make learning fun!