Preschool (3-6 years)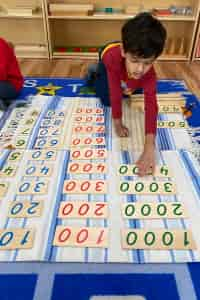 This is the stage where students can really begin to experience the fullness of multi-age groups. With older kids serving as examples and role models, they are encouraged to lead and assist the younger children, who benefit from having someone to look up to. In a traditional classroom setting, with closer age groupings, the leaders generally form based the strongest personalities. In the Montessori classroom, however, even the more quiet ones are given opportunities to develop leadership skills.
In this age group the children are taught a sense of respect between the students and teachers. We use exercises to teach the children how to resolve conflicts and show common courtesy in different situations. Teaching them how to respect others and also how to be helpful friends produces an atmosphere of good citizenship and community.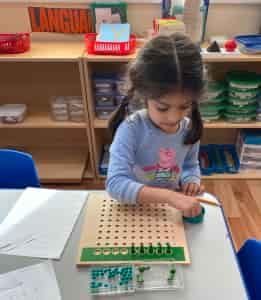 The core of the class curriculum is based on the five main areas of the Montessori classroom: Sensory Exercises, Practical Life, Language, Math, and Culture/Science. In addition to learning practical skills for daily living and developing their senses as they learn, the students begin the foundation for reading, writing and arithmetic, as well as being exposed to various ideas of science and culture.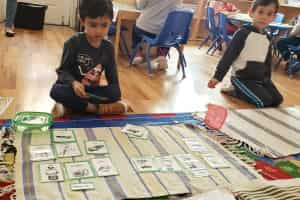 By the time they are done with this class, they have spent 3 years honing theirfundamental learning skills are prepared for the next stage of education. More importantly, they have acquired the outlook that learning is fun and exciting, and their curiosity will only grow. They are now ready for the Elementary Class.
Contact Us for Rates and Info
Call 972-872-8501. Or fill out this form and we'll get back to you soon.
---

Testimonials
Definitely a good choice choosing our son to go to this school. We questioned it from a lot of different montessoris but at the end we made a very good decision here. All of our friends and family will also be sending there children here. Excellent staff and front desk people!
I transitioned my 4 year old daughter here from another daycare where she was unhappy. I chose this Montessori school because of the warm and welcoming atmosphere they gave as my first impression. And it has become even better since. Their focus is truly in the interest of the children, not doing it for the business as such. That is what makes the difference.
This is a beautiful preschool embracing the essence of Montessori with fantastic teachers and facilities. My child comes home very proud with stories to tell of another exciting day. The facilities is renovated and everything is so clean.
We are very happy with the school, teachers & the positive experience. Along with academics, extra curricular activities motivated kids & enjoyed it very much. Overall great experience for us.
We have seen incredibly positive changes in her skill levels and also her socialization with others. You have provided a wonderful educational and social environment for her, and we are quite pleased that Lily will remain with you until elementary school. We appreciate all that you do for our children, and count ourselves lucky to be part of the Kidz Camp family.
My daughter loves Kidz Camp Montessori and so do I! It has been an amazing experience. The staff and teachers are wonderful and extremely dedicated. My daughter has thrived during her time here and has gotten an excellent head start for kindergarten because of the hard work and dedication from her teachers. They are very nurturing and they know how to make learning fun!